As the world's most visible campaign to inspire organ, eye and tissue donation, the Donate Life Rose Parade® float inspires viewers to save and heal lives through organ, eye and tissue transplantation. Register today to become an organ, eye or tissue donor by visiting www.DonateLife.net. 
Since 2004, The American Association of Tissue Banks (AATB) has shared the importance of tissue donation with the world through our participation as a Donate Life Rose Parade float sponsor. For over 15 years, AATB has honored tissue recipients whose lives have been transformed and who can now enjoy a better quality of life after receiving the gift of a donor's tissue.
Each year, AATB sponsors one tissue recipient, with the once-in-a-lifetime opportunity of riding on the Donate Life Float in the Rose Parade on New Year's Day. Unfortunately, in a year of worldwide uncertainties, we were unable to do so this year. Instead, as longstanding sponsors of the event, we chose to use our sponsorship as a tribute to our AATB Members, Accredited Institutions, and those in the tissue industry who have worked so tirelessly throughout a truly unrivaled year.
Below is a rendering of our ad that will appear in the 2021 Donate Life Rose Parade Float commemorative yearbook.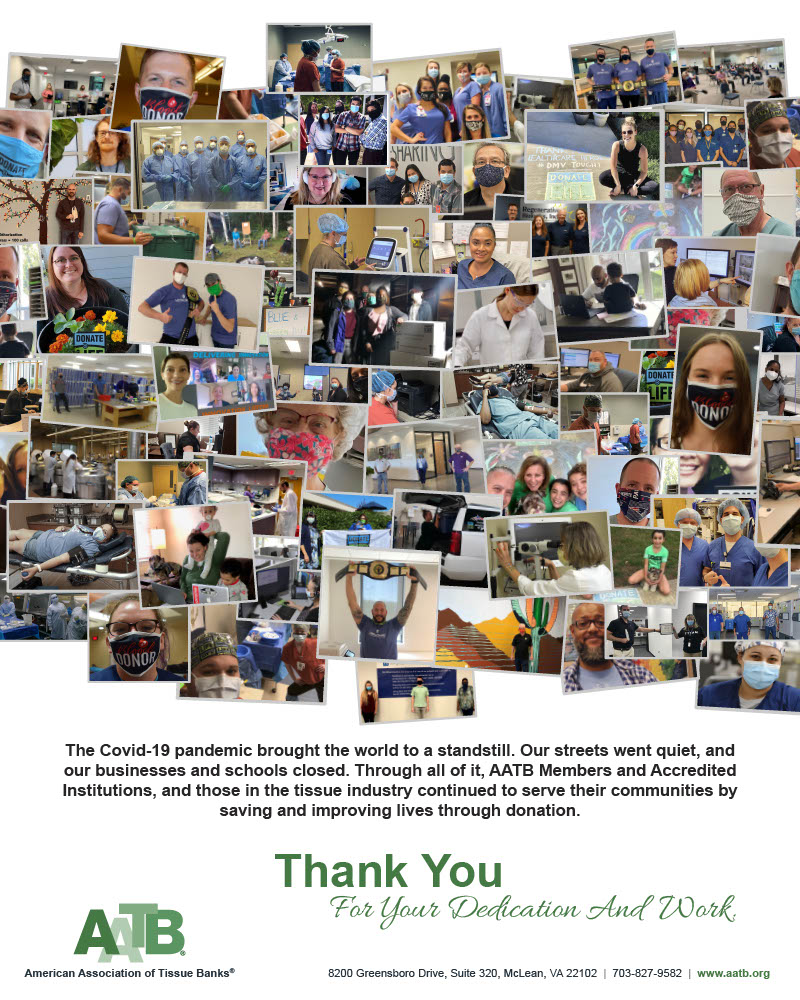 With the Rose Parade being transformed onto a televised Entertainment Special and the Donate Life float being transformed into a floral sculpture for 2021, we would like to show our continued support of the Donate Life community by sharing the stories of some of their 2021 Donation Healthcare Heroes.
The 2021 Donate Life floral sculpture, "Community of Life," will highlight the arduous work of donation healthcare professionals who quietly yet diligently work every single day to make the gift of life possible. This year's Donation Healthcare Heroes have gone above and beyond their call of duty to make donation and transplantation possible during the current COVID-19 pandemic. These Donation Healthcare Heroes will be recognized with special plaques on the 2021 Donate Life floral sculpture.
Learn more about these dedicated healthcare professionals here, including two doctors who use nerve allographs and heart valves to help save and heal lives every day.