You are invited to exhibit and sponsor at the 2023 AATB Annual Meeting! Don't miss this incredible opportunity to showcase your brand and connect with industry leaders at the upcoming AATB Annual Meeting. As the premier event in the field of tissue banking, this conference gathers professionals from around the globe who are passionate about advancing the science and practice of tissue transplantation. By securing a sponsorship or exhibit space, you'll gain unparalleled visibility and access to key decision-makers and influencers in the industry. Whether you're looking to elevate your brand, launch new products, or forge strategic partnerships, this event provides the perfect platform. Don't delay - join us at the AATB Annual Meeting and unlock endless possibilities for growth and success in the tissue banking industry!
Booth and Sponsorship Information Page 
Please read all the informational pages using the link below before logging into the platform to purchase your booth and/or sponsorship.

When logging into the platform to purchase an exhibit booth and/or sponsorship, select "Click to Start" under "New User" (see the highlighted button in the image below)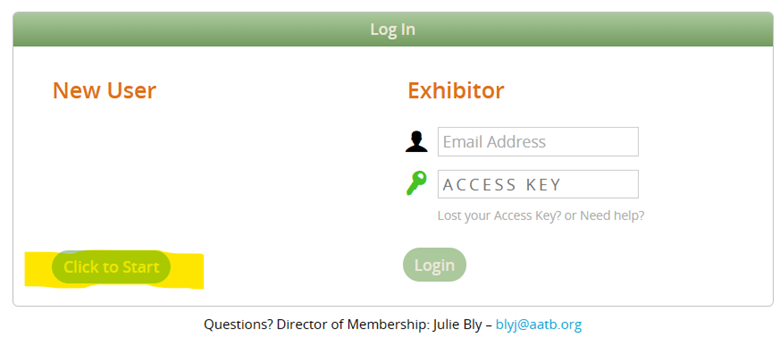 No Access Key will be needed if you click on the "Click to Start"

If you have any questions regarding the process, please contact Julie BLy, Director of Membership, at blyj@aatb.org or 703-229-1031.