AATB has launched a volunteer-driven initiative to evolve Standards for Tissue Banking into a simpler and more adaptable set of requirements reorganized into a quality systems framework. Known as the "Standards Rebuild Project," this initiative will involve a two-step evolution into a standard that will establish clearer and more user-friendly requirements and provide the framework for conveying standards and supporting guidance for evolving products and technologies in tissue banking. The Standards for Non-Transplant Anatomical Donation, 2nd edition will undergo a similar process beginning in 2024. This web page will be regularly updated with news and resources as they become available.
Background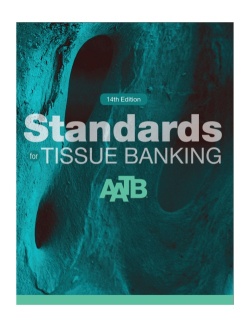 An evaluation of the structure, useability, and applicability of current 14th edition of Standards showed that while the Standards represent a critical repository of information and guidelines that provide the backbone for quality operations in industry, they were in need of thorough evaluation and modernization to improve their flexibility, reduce their overall complexity, and increase their value to members. By creating a modern, resilient, and maximally fit-for-purpose Standards, AATB will be able to accommodate evolutions in technology and regulation and strengthen allied programs (i.e., Accreditation, Education). The Standards Rebuild Project was formally launched with the mission to provide best-in-class Standards through a bold and thoughtful redesign. The Project will be accomplished in two stages represented by the 15th and 16th editions of Standards.
The 15th Edition
This edition will be a version that is restructured into the new systems framework, but, importantly, will contain no new requirements. While it will comprise a fully functional set of standards, it primarily will serve as an intermediary that will enable acclimation by users to the new framework. To facilitate the transition, AATB will provide an opportunity for comment with an extended notice period so that Council members may provide feedback in advance of the release of a final version for implementation.
The 16th Edition
Based on the 15th edition, the Standards Committee will develop the 16th edition of Standards. The newly restructured document will be evaluated for opportunities to revise and add requirements to ensure that Standards are state-of-the-art and reflective of trends and evolutions in technology, regulation, and industry practice for areas where Standards should change or be prepared to accommodate future changes. 
Key Dates
As currently envisioned, a tentative timeline for the Standards Rebuild Project is as follows:
DECEMBER 2023: RELEASE OF THE DRAFT 15TH EDITION 
JANUARY 2024: WEBINAR AND Q&A
FEBRUARY 2024: COMMENT PERIOD
MARCH - JUNE 2024: DEVELOPMENT OF GUIDANCE FOR ACCREDITED TISSUE BANK TRANSITION
JULY 2024: 15TH EDITION ENTERS A SIX-MONTH PREPARATORY PERIOD
JANUARY 2025: 15TH EDITION COMES INTO EFFECT
Resources
Recording: Standards Rebuild Process & Update
During this 2023 AATB Annual Meeting Session, AATB staff and project group leaders provided an overview and update on the progress of our restructuring of the AATB Standards in anticipation of the publication of the 15th Edition Standards for Transplant.