Cartilage and Tendon Recipient
John was born with congenital abnormalities on both knees that have caused the cartilage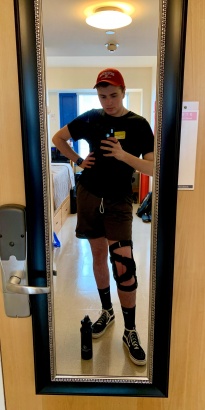 in the patellofemoral compartment to rapidly and spontaneously deteriorate. By the age of 13, his knees sounded and felt like painful Velcro every time he bent them. When his surgeon at the Hospital for Special Surgery first read his MRIs, he was appropriately dubbed "the 17-year-old with 70-year-old knees" because the damage was so inconsistent with his age. Additionally, these deformities have resulted in severe instability, demonstrated by the dislocation of both kneecaps from simple activities like walking down the street or doing the cha-cha slide as a camp counselor. Combined, these conditions have progressively limited his mobility and made some of life's basic pleasures extremely difficult, like being able to kneel to pet his dog or going up and down stairs.
John began to seek higher-level care after he fully dislocated his left kneecap in the summer of 2018. His case was bounced between doctors until he finally landed in the hands of Dr. Beth Shubin Stein at the Hospital for Special Surgery in New York City. Dr. Shubin Stein is one of the first orthopedic surgeons in the world to dedicate their academic career solely to shedding light on this under-investigated subspecialty of complex patellofemoral instability and arthritis. Over the years, John has spent more than two years of his life in physical therapy and gotten countless hyaluronic acid injections to offset the pain caused by his raw knees. Dr. Shubin Stein had predicted he had over a 75 percent chance of re-dislocating his left kneecap and around a 50 percent chance of popping out his right, even without having fully dislocated it in the past. Whenever that next dislocation occurred, they knew it would be time for surgery; that time came in late September of 2020 when he was walking back to Northeastern University's campus with his friends, and he fully dislocated his right kneecap.
On November 10, 2020, John finally had surgery on his right knee to definitively fix his issues (he plans to do the left knee within the next year). During the five-part procedure, Dr. Shubin Stein rearranged and reconstructed the anatomy of his knee to fix how his kneecap interacts with its surrounding bones and muscles, all while repairing the damage he had accumulated over the past eight years. Most notably, he received a live juvenile cartilage transplant to replace his missing cartilage, as there was none left under his kneecap, along with a ligament allograft to reconstruct his MPFL. While his full recovery will extend past September, he is already learning what it's like to have a knee that acts and feels his age, which is something he has never had the privilege of knowing.
He acknowledges that this wouldn't have been possible without the selfless sacrifice of three families, two of which were those of children under the age of 12. "I am forever indebted to my donors for granting me the gift of mobility, so the best ways I know to repay them are by writing them letters expressing my gratitude, eventually moving better than I ever could before, and sharing my story to encourage organ and tissue donation registration," said John. 
While he has always been passionate about organ and tissue donation, this recent happening finally pushed him to get involved in advocacy for the field, and he is honored to now be a volunteer.